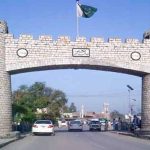 CHARSADDA: A watchman of a government school in Khanmai area of Charsadda has allegedly subjected a girl student of second grade to sexual abuse.
Police sources said a seven-year-old student of second grade was subjected to sexual abuse by the watchman of the school. The girl narrated her ordeal to parents after coming home after which they lodged a case against the accused in Khanmai Police Station. The victim girl identified the accused as 32-year-old Asghar.
Police said medical report of District Headquarters Hospital Charsadda confirmed that the little girl was sexually abused. The girl is under treatment in the hospital.
Police said the accused has been arrested and a case under Section 376 has been filed against him. Police said the accused was arrested within 12 hours of filing of report against him.
During the initial interrogation, the accused confessed to his crime. He reportedly admitted that he took the girl on Friday to his house and sexually abused her and then asked her to go home.