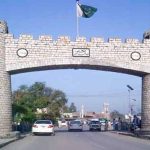 ISLAMABAD: Hundreds of employees of the Utility Stores Corporation assembled to demonstrate against the probable closure of the stores while demanding permanent contracts.
The protest initiated from the head office of the corporation in the Blue Area of the capital and was brought to a halt by the police forces at D-Chowk.
The disgruntled employees pushed the government to arrange Rs27.6 billion worth of its subsidy dues that had been in the waiting since the past seven years that resulted to its likely closure.
Furthermore they also laid out the appeals of making their contracts permanent with a raise in their salaries and wages stating that the outlets will not be opened around the country till the demands put forward by them have been accepted.
It was also reported that the demonstrators resisted the force of the police while threatening to lead the march inside the Parliament House given their demands remain unanswered.
The federal capital's D-Chowk area is presently kept under firm security measures to keep the situation under control.