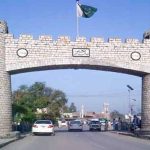 PESHAWAR: The police have arrested at least 18 suspects during a grand operation conducted in the jurisdiction of Yaka Toot police station.
According to a statement issued by the city police, weapons and narcotics were also recovered from some of the suspects.
Ladies police personnel and officials of security agencies also participated in the operation during which, more than 200 houses were searched, the statement said.
It read that four fugitives were also among the arrested and said that the operations would continue.