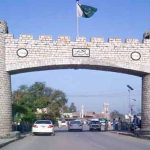 KARACHI: Chairman Pakistan Peoples Party (PPP) Bilawal Bhutto Zardari has declared the landmark decision of Supreme Court in Panama Leaks case as the beginning of accountability process in Pakistan.
While addressing a news conference, Bilawal said that the apex court decision to disqualify Nawaz Sharif in Panama Leaks case would benefit the country. He said that PPP always raised for accountability of corrupt rulers. He also urged the federal government to complete its constitutional tenure and appoint a new Prime Minister. He said that PPP acted on Panama Papers issues according to its strategy adding that the party first raised the issue.
Bilawal rejected the notion that the Supreme Court decision was a judicial martial law and said that the court verdict was according to the law and constitution of Pakistan.
Earlier, a meeting of PPP leaders present in Islamabad was held at Zardari House Karachi after Supreme Court reserved the verdict in Panama case.
The meeting was chaired by Chairman PPP Bilawal Bhutto Zardari.
The meeting deliberated on all the aspects of expected verdict.
Leaders who were in attendance included Syed Nayyar Hussain Bukhari, Senator Farhatullah Babar, Senator Sherry Rehman, Himayun Khan, Mustafa Nawaz Khokhar, Faisal Karim Kundi and Jamil Soomro.
The PPP Chairman left for Karachi after the meeting.