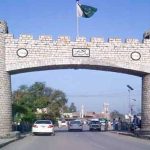 LAHORE: After government delegation, led by commissioner Lahore, talks with Pakistan Tehreek-e-Insaf (PTI) chairman Imran Khan, the caretaker chief minister ordered the removal of police barriers from Zaman Park. The provincial government postponed search operation at the residence of Imran Khan after deadlock over SOPs.
In an attempt to talk to  Imran Khan on SOPS for search at his  residence a team comprising of Lahore Commissioner and other government officials, including police officers, entered Zaman Park and presented a warrant to Imran Khan's lawyers. The government team consisted of Lahore Deputy Commissioner Rafaqat Haider, DIG Operations Saad Ali Dogar, and SSP Sahib Ashraf. Commissioner Lahore Muhammad Ali Rhandawa accompanied the police officers as they entered Imran Khan's residence.
Both parties engaged in discussions for approximately one hour in a friendly atmosphere. Afterward, Commissioner Lahore left Imran Khan's residence and declined to answer any operational-related questions before departing.
The government team handed over all evidence related to terrorists to the Zaman Park administration, while Imran Khan's staff did not grant permission for a search of his residence.
Imran Khan set conditions for the search operation. According to government sources, Commissioner Lahore provided Imran Khan with a list of terrorists associated with him, including those involved in the attack on military installations on May 9. They also provided evidence against these individuals and informed him about the involvement of his PTI party leaders in direct attacks.
Subsequently, the government committee held a meeting with Punjab Chief Minister Mohsin Naqvi and informed him about the discussions. Following the meeting, the Chief Minister issued orders to end police check posts outside Zaman Park.
He stated that according to the promises made, the Zaman Park administration should put an end to encroachments in Zaman Park, and as soon as operations are carried out, the police check posts will also be removed.
Information Minister Amir Mir told a private TV channel that Imran Khan and the commissioner failed to reach an agreement over SOPs for search operation at Zaman Park. He said that commissioner Lahore presented handed over the list of wanted persons including PTI leaders Murad Saeed, Hamad Azhar, Azam Swati and others who are present at Zaman Park. He said that Imran Khan wanted few policemen for search operation. However, he added, the administration wanted to carry out operation with about 400 policemen so that no one could escape. he said that Imran Khan denied presence of the wanted persons at his residence.