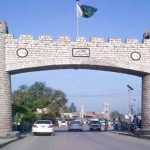 PESHAWAR: The district administration here Monday imposed section 144 banning entry of Afghans into city, sale of acids and explosives and business of renting out vehicles for a period of 10 days.
A district administration notification said movement on rooftops of building near to Imambargahs would also be banned during the period while the business of motorcycle dealing should also remain closed for the said time.
Pillion riding and arms dealing would remain banned from 8th to 10th Muharram while ban on wall chalking unnecessary use of loud speakers and plying unregistered vehicles would remain effective for a month.