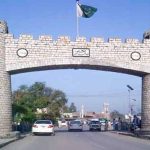 ISLAMANAD: The Pakistan Peoples Party (PPP) Secretary General on Monday took up the matter of section 144 imposed in the erstwhile tribal districts ahead of the elections in July with the chief election commissioner saying that the move will 'hamper the polls'.
Party Secretary General Farhatullah Babar, in a written letter, stated that imposing section 144 will hamper free and fair elections on July 20.
"Access to voters through public meetings by candidates and their parties' leaders is of paramount importance to present to the people alternate political narratives that can change their lives," it underscored.
PPP leader urged that the executive authorities be directed to "refrain from imposing section 144 or otherwise banning entry" to outsiders in the tribal areas.
ECP postponed elections on 16 provincial assembly seats for the newly-merged tribal districts in the wake of threat of terrorist attacks from across the border.
The voting was originally scheduled for July 2. A meeting, chaired by Chief Election Commissioner Sardar Mohammad Raza at the Election Commission Secretariat, decided that the polling will now take place on July 20 on the request of the Khyber-Pakhtunkhwa government.