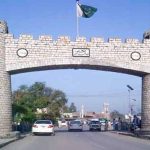 By Shehzad Yousufzai
RAWALPINDI: Aslam Khokhar who is a broadcast journalist, now avoids covering protest demonstrations.
Almost a year ago, on June 17, 2018 when Aslam Khokhar was on his way for making a news package on Eid day, he saw a large number of motorcyclists, few of them with families, stopped by police near Rawal Chowk at Murree Road.
According to him, when people saw their Digital News Gathering Van (DSNG), they started protesting against the officials and subsequently media persons started recording their protest. "meanwhile I approached to police for asking why people are stopped and protesting, they dragged me to the check post and started beating me, later they also snatched our cameras and beat the cameraman and DSNG operator as well", Elaborated Aslam. Since then, I'm avoiding to cover a protest demonstration.
Aslam, further said that, after the passage of one year, he neither got justice nor even FIR has so far been registered by the police. He said that Police had ensured to representatives of RIUJ and Press Club that departmental action will be initiated against the accused police officials. Later on, he approached to police and filed an application for registration of FIR, but neither RIUJ or Press Club followed the case nor police took any departmental action against the police official.
Protestors often block main roads or roads leading to key offices. Aslam Khokhar's reason of not covering protesters is not for avoiding the protesters, rather it is the physiological impact he has after beaten up by police for covering a protest.
Islamabad is considered a safe city however data of violence against journalists' shows that the federal capital is insecure and unsafe for journalists.
According to Freedom Network's "Pakistan Press Freedom Report -2018", at least 157 cases of attacks and violations were documented across all four provinces, Islamabad and tribal areas
The report states that 35 per cent of the (55 out of 157) cases was recorded in the federal capital Islamabad, making it the most dangerous place to practice journalism in the country.
The most targeted medium remained TV with 85 cases recorded against journalists associated with it compared to print, radio and internet.
It is not the story of Aslam Khokhar only, a large number of the journalists face such problems while working in the field, but most of them prefer to ignore them instead of reporting.
Mansoor Satti, an office-bearer of National Press Club (NPC), answering a question regarding the support of the press club in such matters said that NPC stands with journalists' community in every hard time, for example, recently a senior journalist Shahid Methla was arrested by the Islamabad Police and journalists including President of NPC staged a sit-in outside the police station until he was released.
Mansoor believes that the divide of journalists' community in so many groups have weakened their voices.
Pakistan Press Foundation (PPF), a non-governmental organization, in its "Report on safety of media workers" recommends that Criminal cases should not only be registered but should also be properly investigated and prosecuted against the perpetrators of violence against media.
PPF also suggested that a special prosecutor on violence against media should be established at federal and provincial level to investigate cases of violence against media, to control the alarming level of violence against media, and to end impunity for those who attack media practitioners and institutions.
Advocate Atiq Ur Rahman said, FIR is the basic right of every citizen, instead of making compromises the journalists should prefer to lodge FIR of such incidents.
Some of the journalists have to take stand against such violence to reduce the ratio of violence against journalists, he maintained.
Despite contacting multiple police officers of Islamabad Capital Territory (ICT) no one agreed to talk on the record.
A senior officer of ICT Police wishing anonymity said that such incidents happen only due to the lack of tolerance on both sides. If Police official ask for the identity of any journalist mostly the answer is "Ap Mujy Nahi Jantay Me Sahafi Hun", Similarly when journalist films an illegal activity of police officials they also use their power to save them.
He said, it can only be reduced if both sides show seriousness, professionalism and maturity.
Amir Sajjad Syed, President Rawalpindi Islamabad Union of Journalists (RIUJ) said that it is not necessary to lodge FIR of every incident, the journalist should at least report the incident.
To a question, he said, union stands with its member on every step, but unfortunately when the union gives call for the protest the community members do not participate in such protest actively.
The RIUJ President said that the union offers legal aid including free lawyer to its member if anyone requires.