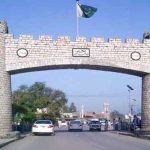 QUETTA: Balochistan Interior minister Sarfaraz Bugti Tuesday said security forces has cleared the Quetta Police Training Center adding that the terrorists wanted to target 700 police recruits in the attack.
Talking to media after contingents of Frontier Corps and Pakistan Army cleared Police Training Center on the heels of four-hour long operation, he expressed solidarity with the families of the deceased and the injured, and said, "The war against terrorism will continue with bravery."
Condemning the terrorist attack, Bugti said as many as three terrorists barged into Police Training Center and first of all, they hit personnel standing guard at Watch Tower.
"Watch Tower security man laid down his life while fighting bravely with terrorists," he said.
The provincial interior minister said two terrorists blew themselves up and the remaining one was shot down in the exchange of gunfire.