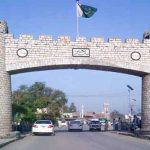 QUETTA: The security forces have foiled a terror attempt and arrested a terrorist in injured condition outside an Imam Bargah in provincial capital.
According to the details, a terrorist activity planed on Mecangi road Quetta has been foiled by security forces. The terrorist failed to implement his malicious plan after he was injured by the retaliatory firing of security forces.
The forces have cordoned off the area. Police said the suicide attacker was trying to enter the Imam Bargah. A guard was also injured by the firing of the terrorist.