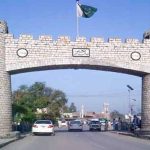 LANDI KOTAL: At least six terrorists were killed and 10 of their hideouts were destroyed during security forces airstrikes near Pak-Afghan border in Khyber Agency on Friday, said security sources.
Security sources added that 10 hideouts of the terrorists were also destroyed along with ammunition and weapons in the operation.
In wake of the recent terror attacks in the country, security forces have swung into action to tighten noose around the neck of terrorists.