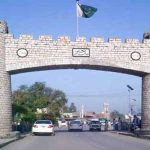 PESHAWAR: Security Forces conducted intelligence based operation (IBO) in South and North Wazirstan, said an ISPR press release here Tuesday.
During operations large quantity of arms and ammunition, explosives including prepared IEDs, heavy machine guns, sub machine guns, rockets, grenades, anti-personal, igniter communication equipment and large quantity of various caliber ammunition were recovered.
In another operation the security forces conducted IBO in Dera Bugti, Balochistan from where explosive, weapons and ammunition including rockets were recovered.