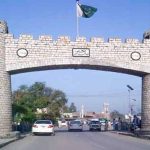 ISLAMABAD: Security forces Monday recovered huge quantity of Arms and ammunition from hidden portion of a car during a snap check in Darra Adam Khel.
According to Inter Services Public Services Public Relations (ISPR), three individuals were also apprehended along with the car. The weapons and ammunition includes SMGs, 30bore and 9 mm pistols, 12 bore repeaters and rifles of different calibers along thousands of ammunition of mixed caliber.
The security forces also recovered 12.7 mm gun and PRG 7 along with ammunition boxes in another intelligence based operation on a information of a local source in area Boya Ghundakai, South Waziristan Agency.