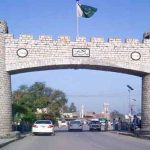 WASHINGTON: Pakistan's Ambassador to the United States, Aizaz Ahmad Chaudhry, met with Chairman of the US Senate's Homeland Security and Governmental Affairs Committee, Ron Johnson at Capitol Hill in the United States.
According to a press release, Ambassador Chaudhry briefed Senator Johnson, who is also a member of the Senate Foreign Relations Committee, about Pakistan's successes in the fight against militancy and extremism.
He said as a result of Pakistan's comprehensive counter-terrorism operations, the security situation in the country has markedly improved. He said the economy is re-surging and foreign investor interest, including from corporate America, is high.
Aizaz Chaudhry said Pakistan and the United States have made great progress in degrading the terrorist threat in Afghanistan. He stressed on the need that Pakistan and the United States should continue to work together for peace and stability in the region.
Senator Ron Johnson appreciated Ambassador Aizaz Chaudhry's sentiments on the importance of sustained cooperation between Pakistan and the United States to achieve their common goals.