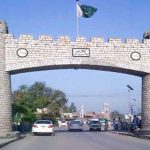 KARACHI: The police and Rangers Friday revealed security and traffic plan for three T20 matches between Pakistan and West Indies, which will start on April 1 at the National Stadium in Karachi.
Addressing a joint press conference along with police and Rangers officials, Sindh Information Minister Nasir Hussain Shah said that like PSL final match, foolproof security arrangements will also be made for the Pakistan-West Indies T20 series.
The provincial minister assured that any deficiencies in the security plan for the PSL will be catered to in the upcoming series. He appreciated the role of the police, Rangers, media persons and the public for making the PSL final match a success and added, "credit goes to everyone including federal and provincial governments, PCB, law enforcement, media and the people of Karachi."
Brigadier Shahid on this occasion said that the entry timings were changed from 12pm last time to 3pm this time owing to the changing weather conditions. "The entry timing is 3pm and gates will close at 7pm," he said.
Brigadier Shahid reiterated that the International Cricket Council had earlier expressed satisfaction on the security arrangement for the Pakistan Super League's final match and said the authorities would ensure foolproof security this time around too.
He said the item of forbidden lists would remain the same as the one issued for PSL3's final match.
At least 6000 security personnel would deployed for the matches.
The police officials informed the media about traffic plan for the series.
On match days, the road from Karsaz to National Stadium will be blocked for traffic. Vehicles will be diverted towards Drigh Road and then towards Rashid Minhas Road from there.
Roads leading from Dalmia to National Stadium will also be closed along with the road leading from NIPA to Mazar-e-Quaid to University Road and new MA Jinnah will also be not available to commuters.
The road leading from Liquatababd No 10 to National Stadium will also be closed. Traffic will be rerouted towards Karimababd and Aisha Manzil.
As it was during the PSL final, this time around too there will be designated parking spots for the match-goers which include Hakeem Saeed Ground in Gulshan-e-Iqbal, Urdu University ground and Sunday Bazaar.
Parking will also be available at Ghareeb Nawaz Football Ground located at Dalmia. KMC ground, KDA club and China ground on Kashmir Road will also be available for parking.