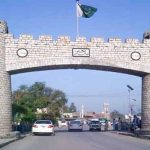 LARKANA: Pakistan People's Party (PPP) chairman Bilawal Bhutto Zardari Thursday vowed to resist any pressure to abolish 18th Amendment, saying that Imran Khan was 'selected' as prime minister to convert Pakistan into one unit and a one party state.
He was addressing a gathering to mark the 11th death anniversary of his mother Benazir Bhutto Zardari in Garhi Khuda Bukhash. "We are under pressure over the 18th Amendment. Imran Khan wants me to support him to abolish this amendment." "I can't and never do this," said Bilawal.
He said that he would not be scared of the one-sided accountability of the 'puppet' Prime Minister.
PPP Chairman further alleged that National Accountability Bureau is going only after opposition parties but Imran Khan's sister Aleema Khan not being held accountable.
"University professors are chained and paraded before courts but no law applies to Aleema Khan, Aleem Khan and Jahangir Tareen over their foreign assets and unexplained wealth," said Bilawal.
He questioned that why the Pakhtun youth were joining the new movement in Khyber Pakhtunkhwa. He also raised the issue of Baloch missing persons' relatives sit-in Quetta. He also talked about the rights of the Gilgit-Balochistan. He also expressed concerned over slogans raised in Punjab after conviction of Mian Nawaz Sharif.
He was not expecting that within only two years, hurdles would be created in his political career. However, he added, that he would not succumbed to any pressure tactics and continue his struggle for the rights of the people of Pakistan and democracy.
Bilawal wondered if Prime Minister Imran Khan is aware "how weak the federation's foundations are right now", warning that "a single spark can turn everything into a heap of ash."
"The country's rein has been handed to an inexperienced PM today," he said. "He has drowned the public in a sea of inflation within his first 100 days. He has brought the economy to a point from where there is no return."
The PPP leader questioned why "opposition is the sole target" of the ongoing accountability drive in the country. "Why are federal ministers and the prime minister and his family above the law?"
Bilawal labelled the JIT's report as "lies and sham", and claimed that it would not hold in the court where it "would be thrown in the trash can".
He launched a staunch defence of his father, saying to the party workers that the PPP co-chairperson had been acquitted in all past cases against him.