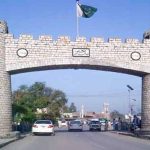 DIR LOWER: Chairman Pakistan Peoples Party (PPP) Bilawal Bhutto Zardari has said that selected prime minister wanted fascism in the country.
Addressing a public meeting here on Monday, Bilawal said that today everyone was worried due to the government's wrong policies and incompetence, adding that even the selectors were worried. "We are fighting against selected prime minister," he said.
Bilawal Bhutto Zardari said that there could be no compromise on the 1973 constitution and 18th Amendment. He said that the government wanted to usurp the rights of the provinces. He said that there could be no compromise on democracy and 18th Amendment. He said that the selected and rigged government passed the anti-poor budget through rigging. "The MNAs from tribal areas were not allowed to take part in the budget", he said. "Despite my requests, the speaker did not issue production orders of the young MNAs from tribal districts, " he said.
He strongly opposed deployment of the army inside the polling stations in tribal districts to avoid making the country's institution controversial. "When dictators Zia and Musharraf did not deploy army inside polling stations, then why for Imran Khan", he questioned.
He said that the PTI candidates were running election campaign, but the candidates of other parties were being harassed in the name of section 144.