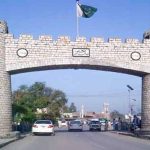 ISLAMABAD: The Pakistan Senate on Tuesday approved a resolution against the persecution of Muslims in Myanmar.
The resolution passed in Senate today said that June 12 should be declared as a day of solidarity with the Muslims in Myanmar.
It went on to say that the government should take up the issue with the United Nations (UN) as well as the international community.
The resolution further stated that the government should also take the matter to the International Court of Justice.
It also stated that a Pakistani delegation should be sent to Burma to communicate Pakistan's stance on the issue.
The Senate extended the time for presentation of report of the Committee on Interior and Narcotics Control on "The Islamabad Capital Territory Local Government Bill, 2015" till 26th of this month.
The motion in this regard was moved by Chairman of the Committee Rehman Malik.
The Senate also began general discussion on a motion moved by Finance Minister Ishaq Dar to make recommendations to the National Assembly on the Finance Bill 2015, containing the annual budget statement.
Leader of the Opposition Aitzaz Ahsan described the budget as pro-rich and anti-poor. He said tax has been abolished from the entities benefitting the rich people. He said that tax should also be imposed on import of aero planes as these are used by the elite class.
The opposition leader said the minimum wages, pay and pension should also be increased according to the actual proportion of inflation.
Mushahidullah Khan said that government has taken a number of projects in energy sector to overcome the energy shortage in the country.
He said government has started road projects to link far flung areas of the country and to bring them into main stream.
Tahir Hussain Mashhadi said that no attention has been paid in the budget to end corruption in the country. He said there is great need to allocate more funds for basic education rather than higher education.
Members of MQM staged a token walkout from the House as a protest for not providing relief to the common man in the budget.
The Senate today passed a unanimous resolution strongly condemning the genocide of Rohingya Muslims in Myanmar.
The resolution moved by Mushahid Hussain Syed said they are being denied their natural right of residing in a country where they have been living for centuries.
It called upon the government of Pakistan to immediately take matter with the United Nations Secretary General and request him to appoint his envoy for the Rohingya Muslims so that their lives and livelihood be protected and human rights safeguarded.