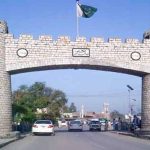 ISLAMABAD— The Senate on Friday unanimously passed passed 'The Elections (Amendment) Bill, 2022' and 'The National Accountability (Second Amendment) Bill, 2022'.
According to details, the session of the Senate was held at Parliament House in Islamabad on Friday with Chairman Sadiq Sanjrani in the chair.
Federal Minister for Law Nazir Tarar introduced the NAB Amendment Bill while Murtaza Javed Abbasi introduced the Election Act Amendment Bill which was passed by the House unanimously.
On the occasion of the passage of both the bills in the Senate, the PTI members strongly opposed and the Chairman came on the dice of the Senate and chanted slogans of imported government.
Later, the House was adjourned till Monday at 4:00 p.m
On Thursday, the National Assembly passed the Elections (Amendment) Bill, 2022 – removing the use of electronic voting machines (EVMs) and effectively disallowing overseas Pakistanis from voting in the next general polls.
The bill was passed with a majority vote, with only MNAs belonging to the GDA opposing it.