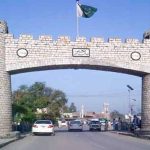 ISLAMABAD: Senate Special Committee Monday finalized its recommendations on the 24 demands made by Khyber Pakhtunkhwa government and forwarded the draft to the senate for further discussion.
The Senate special committee meeting was chaired by senator Muzafar Hussain Shah. The committee finalized the draft of the 24 demands made by KP and forwarded the draft to senate. The draft would be sent to concerned ministries following approval from Senate.
During the committee meeting Senator Rehman Malik and senator Taj Haider strongly criticized the federal government.
Federal government ministries and departments have submitted its reply in response to the KP government 24 demands.
Senator Taj Haider, Senator Rehman Malik, Senator Shibli Faraz and Senator Nauman Wazir Khattak also attended the meeting.
The meeting was also attended by senior officials of ministry of Water and Power, Ministry of Petroleum and Natural Resources, Ministry of Planning, Development and Reforms, ministry of Railways and Ministry of Finance, Revenue, Economic Affairs, Statistics and Privatization.