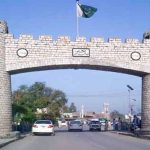 ISLAMABAD: The Senate Standing Committee on Interior on Friday summoned top provincial government officials after bodies of three girls were found in the Cholistan desert and tests confirmed they were sexually assaulted.
A Fort Abbas doctor who had examined the bodies told the committee the girls had been sexually assaulted.
The three girls aged six, ten and twelve were reported missing from Fort Abbas on June 13 and their bodies were found June 18.
It was initially believed the girls were caught in a sandstorm and subsequently died of dehydration and exhaustion. The local administration declared the incident a 'natural calamity' and paid the affected family Rs 2.5 million in compensation."Death of three young girls at the same time, and because of the same reason of exhaustion and dehydration, and blaming it on a storm that only lasted around an hour and a half does not sound plausible," said Senator Rehman Malik, chairperson of the committee.
"This is a heinous crime. This committee will take this case to a logical conclusion," added the chairperson. He also ordered an inquiry into how the deputy commissioner of Bahawalnagar declared their deaths a 'natural calamity' despite the initial medical exam stating the girls had been sexually assaulted. "This is misreporting of the facts," Malik observed.
A sub-committee headed by Senator Rana Maqbool Ahmad has been formed to further probe the matter.