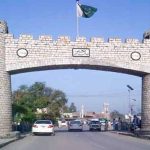 ISLAMABAD: Senate's Standing committee on Law and Justice on Thursday has recommended lodging a treason case against Muttahida Qaumi Movement chief Altaf Hussain under Article 6 of the Constitution of Pakistan.
Standing committee of the Senate convened a meeting in the federal capital and different matters of national importance came under discussion.
The meeting agreed to recommend lodging of case under Article 6 against Altaf Hussain for raising anti-Pakistan slogans. The participants also summoned details of reference sent to Britain in this regard.
Chairman of the committee, Senator Javed Abbasi called for a stern action against those who talked against Pakistan.
Massive shift in the opinions of the people regarding Altaf Hussain and his party was seen right after he raised anti-Pakistan slogans in a speech delivered at a gathering of workers from London where he has been living in self-imposed exile for over two decades.
He was seen stripped off the respect and taken off the pedestal people had placed him on for years in Karachi and different cities of Sindh.
On August 22, the incitement and provocation by the MQM chief drove party activists to storm offices of two different private media houses and vandalise the equipment.
A life was lost afterwards as police attempted to counter the enraged and politically motivated persons while two wounded were shifted to a nearby hospital.
Separately, as the meeting progressed today, Senator Babar Awan raised his concerns over the 22 envoys of Pakistan in different countries who were tasked by the premier to shed light on Kashmir dispute and Indian occupation for decades in context of the latest killings.