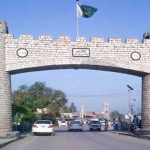 ISLAMABAD: The Senate passed on Friday the amendment to the Elections Act 2017 with a majority after the National Assembly (NA) approved the Act on Thursday.
The bill was pertaining to fresh delimitation of constituencies in line with the provisional results of the latest census in light of the general elections next year.
The Act was tabled by Law Minister Zahid Hamid in the Senate where he said, "We are Muslims and believe in the finality of the Prophet (PBUH)".
He was referring to the passing of the second bill in the NA on Thursday related to Khatam-e-Nabuwat. That bill, too, was taken up by the upper house of Parliament today.
Speaking during today's session, Senate Deputy Chairman Abdul Ghafoor Haideri, who hails from the Jamiat Ulema-e-Islam-F, said the Ahmadis' status is the same as it was in the 1973 Constitution.
In the NA, the constitutional amendment bill on delimitation was passed with 242 parliamentary members voting in its favour.