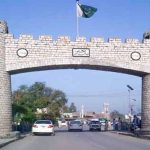 ISLAMABAD: Senate on Friday unanimously passed a resolution strongly condemning the illegal annexation of Occupied Kashmir by India led by Narendra Modi and the RSS gang he represents.
It was moved by Leader of House Shibli Faraz.
The resolution reads that the annexation is an attempt by India to change the demography of occupied Kashmir as part of their racist and fascist agenda.
Participating in the debate on Kashmir situation, Maulana Ghafoor Haideri said the entire nation is united on Kashmir dispute. Voicing concerns over curfew and security lockdown in occupied Kashmir, he said Pakistan should extend practical support to Kashmiris people.
Mushahid Hussain Sayed said Modi's decision of annexing occupied Kashmir is aimed at changing the demography of the territory. He said this decision however has unified the entire Kashmiri leadership and India is also internally divided on it. He said Kashmir freedom movement is indigenous in nature and it should remain so. He said we have to mobilize the international community on the festering dispute. He said it is the battle of ideas and we have to engage the media, think tanks and our diaspora to effectively highlight the Indian atrocities in the occupied territory.
Nighat Mirza condemned the Indian unilateral actions in occupied Kashmir. She said the Muslim Ummah should come forward in support of Kashmiri people. She said the UN has failed to fulfill the promises made with the Kashmiri people. She said we should send parliamentary delegations to different capitals to apprise them about the actual situation in occupied Kashmir.
Raza Rabbani regretted the silence of Muslim Ummah on the prevailing situation in occupied Kashmir. He said there are only three countries China, Turkey and Iran which have openly supported Pakistan's stance on Kashmir. He suggested the parliament takes the initiative to apprise the human rights organizations about the human rights situation in occupied Kashmir.
Usman Khan Kakkar said Kashmir dispute should be resolved in accordance with the aspirations of Kashmiri people. He said Kashmir belongs to the people of Kashmir.
Mohsin Aziz, in his remarks, said the people of occupied Kashmir are valiantly rendering sacrifices to get freedom from the evil clutches of India. He said we salute their sacrifices. He said Pakistan should go ahead with closure of its airspace with India.
Rehman Malik said Modi is a terrorist and his agenda is against Pakistan and Kashmir. He said Modi is carrying out genocide in occupied Kashmir and he should be tried under war crimes.