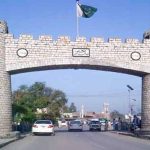 PESHAWAR: Supreme Court Bar Association (SCBA) former president Latif Afridi has been killed on Monday after being shot six times outside the bar room at the Peshawar High Court (PHC).
According to initial reports, Latif Afridi was present outside the bar room in the Peshawar High Court (PHC) when an unidentified armed man shot at him.
He was immediately taken to the Lady Reading Hospital of Peshawar but hospital administration declared him dead on arrival.
According to police officials, a suspect— identified as Adnan Sami Afridi— has taken into custody soon after the unfortunate incident.
Police said that as soon as the firing incident was reported, a heavy contingent of police rushed to the spot and cordoned off the area.
Peshawar Police SSP Kashif Aftab Abbasi confirmed the arrest for killer and said that police also recovered a hand gun used by the suspect.
The investigation is underway to find out that how the shooter managed to get inside the bar despite strict security.
Meanwhile, authorities have registered the case against seven people including victim's son.
It is pertinent to mention here that Latif Afridi was a senior lawyer and remained Peshawar High Court Bar Association and Supreme Court Bar Association president for several times.
Last time, he was elected as president of the Supreme Court Bar Association in the 2020 annual elections.