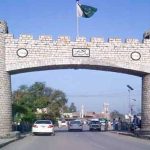 Shangla police arrests seven members of a jirga in a swara case.
Police spokesperson Umar Rehman told media on Sunday that Dandai police station made the arrests after registering cases over the complaint of a 12-year-old girl against nine persons on Saturday.
The girl had been given in swara on the orders of a jirga in Takhta Dandai area of Bisham tehsil.
Umar Rehman told media officials a boy named Ibadur Rehman had illicit relations with a girl, and when the local people found about it, they held a jirga on Friday, which ordered the engagement of the girl to Ibadur Rehman.
The jirga also gave Rehman's younger sister in swara to a teenage boy of the girl's family and imposed fine of 100,000 Rs on Ibadur Rehman's family.
The FIR also include name of a mosque imam ,who solemnized the nikkah of the 12 years old girl in swara.
He said the police after registering case on the complaint of a 12-year-old swara girl arrested seven persons which included Maulana Umar Habib, Ahmed Jan, Taj Malook, Shahi Aman, Bakht Munir, Fazal Mabood, and Tabih Rehman, while police are searching for two other persons.