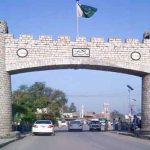 TALAGANG: At least three people were killed and seven sustained injuries when a passenger bus fell off the bridge on Mianwali Road in Talagang on Tuesday.
Details suggest that the bus was enroute to Mansehra from Karachi and met the accident due to over speeding.
Rescue teams arrived at the scene and shifted the injured and bodies to Kot Qazi Rural Health Centre (RHC). The deceased belonged to Karachi and Mansehra.
On the other hand, at least four people were killed and 25 wounded as a mini truck loaded with milk overturned in Raiwind Road in Lahore.
The mishap happened due to speeding on the slippery road. Rescue teams shifted the injured and bodies to Tehsil Headquarter (THQ) hospital in Raiwind. Five of the wounded are said to be in critical condition.
The victims were delivering milk to city from various villages.