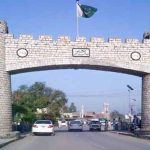 AZAD KASHMIR: Government official along with six family members killed as car plunged into a River Neelum in Azad Kashmir today (Monday).
The mishap took place when Mal Abdul Ghani Mir crossed blind bend at Neelum River and suddenly lost control. The car plunged into the river, killing all the people.
The officer, with his wife and five sons, was en route to his native village from Muzaffarabad for his mother's funeral .
Locals and rescue personnel have recovered Mal Abdul Ghani and his son's bodies while the search of other corpses is underway.
Deputy Commissioner Neelum Valley stated that there is no hope of survival of any of them due to rapid water flow.
Deadly accidents are common on roads across Pakistan due to bad road infrastructure and rampant disregard of traffic laws.
Over 9,000 road accidents are reported to the police every year, killing on average around 5,000 people, according to the Pakistan Bureau of Statistics