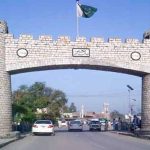 RAWALPINDI: Seven Pakistani soldiers were martyred in Indian army unprovoked firing in Bhimber sector along the Line of Control (LoC), ISPR said on Monday.
According to ISPR, Bhimber sector came under fire of Indian army on Sunday night without any provocation. "Seven soldiers embraced shahadat at the LoC in the Bhimber sector in a ceasefire violation by Indian troops late last night."
Pakistani troops responded to 'unprovoked' Indian firing, and targeted Indian posts effectively, ISPR said.
The latest incident of cross-border firing came as tensions simmer between Pakistan and India over the Kashmir issue. Pakistani authorities last week lodged protests with India as well as with the UN military observers over targeting of civilian populations as the civilian death toll from Indian shelling has risen to at least 25 in the past few weeks. Another 103 have been injured.
Earlier on Nov 10, Pakistan's Foreign Secretary summoned the Indian High Commissioner and condemned the continued unprovoked firing and ceasefire violations by the Indian occupation Forces on the LoC and the Working Boundary, in complete violation of the 2003 Ceasefire Understanding and the International Law.
He observed that the indiscriminate firing and shelling from the Indian side deliberately targeting villages and civilian populated areas, in the last two months, has resulted in martyrdom of 26 people and injuries to 107, including women and children.
The Foreign Secretary deplored the use of artillery by the Indian occupation Forces in Shahkot and Jura sectors on the LoC on 9 November 2016 and highlighted that such weaponry had been used after 13 years, reflecting India s intention to further escalate tensions and undermine regional peace and security.
"The United Nations Military Observers Group for India and Pakistan (UNMOGIP) has the UN mandated responsibility for maintaining peace and tranquility at the LoC and the Working Boundary. While Pakistan is fully cooperating and providing full access to UNMOGIP, we urge India to permit the UNMOGIP to visit and observe the LoC and the Working Boundary," he said.
The Foreign Secretary urged India to investigate the continued incidents of unprovoked ceasefire violations on the LoC and the Working Boundary and ensure respect for the 2003 Ceasefire Understanding, in letter and spirit.