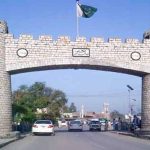 Seven proclaimed offenders in the Naqeebullah murder case appeared before Karachi's anti-terrorism court on Monday to surrender.
They are Amanullah Marwat, Shoaib, Gada Hussain, Mohsin Abbas, Sadaqat Hussain Shah, Rana Shamim and Riaz. They appeared in the ATC after getting protective bail from the Sindh High Court.
On January 23, the ATC in Karachi declared the above mentioned seven suspects as proclaimed offenders, and warrants were issued for their arrests.
The decision was given in the Naqeebullah Mehsud murder case. The court had acquitted former Malir SSP Rao Anwar and 17 others in the case.
"The verdict on the remaining accused who were still at large will be given after their arrest," the court had said.