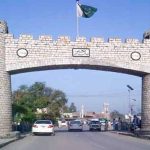 PESHAWAR: Several suspected terrorists were killed and hideouts were destroyed in Pakistan Air Force (PAF) airstrikes in Tirah Valley of Khyber Agency, security sources said on Sunday.
Security sources said PAF fighter jets pounded several militant hideouts in Tirah Valley.
According to security sources, PAF aircraft carried out airstrikes in Pak Dara, Narai Nao, Sprei Khairba Rajgal areas of Tirah and several suspected terrorists were killed.
Sources said that several militant's hideouts were also destroyed in the bombing.