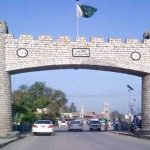 PESHAWAR: Heavy snowfall in mountainous areas has intensified the problems of the people as numerous tourists remained stranded in Ayubia, Nathiagali and Changla.
The tourists are forced to travel long distances on foot as heavy snow has covered the roads have yet not been removed. The local administration has begun efforts to clear the routes however; machinery to remove the snow have not reached in the areas.
Similar situation exists in Azad Kashmir's Lipa valley, Neelum, Donga Gali and Changla where the tourists are trapped. Moreover; the local residents are also suffering due to the closed routes.
A shallow westerly wave is still affecting Gilgit Baltistan and its adjoining areas. Continental air is prevailing over most plain parts of the country.
In the next 24 hours, mainly cold and dry weather is expected in most parts of the country. However, partly cloudy weather is expected in upper parts of the country. Light rain is expected in Malakand division, Gilgit Baltistan, Kashmir and its surrounding hilly areas.
Today's Lowest Minimum Temperatures:
Parachinar -06°C, Kalam, Malamjabba -05°C, Rawalakot, Murree, Skardu, Astore, Ziarat -03°C.