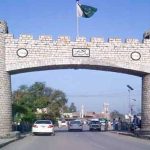 CHITRAL: Hundreds of tourists have been stranded due to flooding in Chitral while the locals have launched rescue activities by themselves.
The recent spell of heavy rainfall has caused blockage of roads from Lowari Top to adjoining areas due to which several cars carrying tourists have been trapped, creating troubles for the passengers including women and children.
They said that no government official has arrived at the scene to direct cleaning process however, the natives have started operation by themselves but due to lack of heavy machinery, they are facing difficulties in the relief work.
Earlier, at least eight people died while 20 houses were damaged in Lasbela flood near Daro Hotel's nullah. The local administration took precautionary measures to tackle the flood.