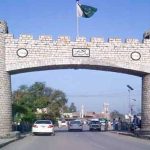 PESHAWAR: PTI leader Shah Farman has taken oath as Khyber Pakhtunkhwa Governor, at the Governor House here on Wednesday (today).
Chief Justice of Peshawar High Court Waqar Ahmed Seth administered the oath to him.
Earlier, Shah Farman resigned from the membership of KP Assembly after costing vote in the presidential elections.
Shah Farman belongs to the Badbher village located on the outskirts of the Peshawar city.