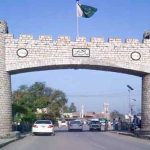 KHUZDAR: Balochistan government has temporarily sealed Shah Noorani shrine, where at least 62 people were killed while over 100 others sustained injuries in a suicide attack yesterday.
According to deputy commissioner Khuzdar, section 144 has been imposed in the shrine.
He said the shrine could face one-month closure.
He said the government is devising a security plan in a bid to avoid any untoward incident in future.