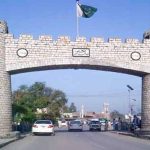 LAHORE: Pakistan Muslim League-Nawaz (PML-N) President Shahbaz Sharif on Friday announced PML-N's "complete support" for Jamiat Ulama-e-Islam-Fazl (JUI-F) chief Maulana Fazlur Rehman's 'Azadi March'.
He said that a massive rally will be held in Islamabad on October 31 to present a joint list of demands by the opposition.
"Despite the support that Imran Khan enjoys, he has failed the country and is placing the burden of his failures on the shoulders of our institutions," said Sharif, as he addressed a press conference in Lahore.
"If even the most far gone of governments had received just 25 per cent of the support he has received, then Pakistan would have been soaring high in the skies of progress," he continued.
"From Karachi to Peshawar, the entire nation is in agreement that this government should go home and as soon as possible, fresh elections should take place," said Sharif.
"I have the utmost respect for Maulana […] we have received instructions for the Azadi March he has set out on, from Mian Nawaz, our quaid, in a letter.
"On October 31, we will ensure our full participation in the march and we will be there in Islamabad to welcome him. We will hold a massive rally to voice our demands and will decide on the next course of action then," said the PML-N president.
Sharif said that it is "not just him" but the whole of Pakistan that "stands in agreement with [Fazlur Rehman] over the fact that [under] the selected government and selected prime minister, [the country has witnessed] in the past year, the worst performance in all fields whether it is education or health".