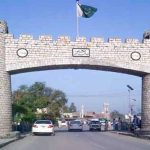 ISLAMABAD: Chief Minister Punjab Shehbaz Sharif held a meeting with Interior Minister Chaudhry Nisar in an attempt to 'reconcile differences,' media reports said on Wednesday.
The Chief Minister Punjab Shahbaz Sharif was accompanied by Finance Minister Ishaq Dar and Railways Minister Saad Rafique. The meeting held at Punjab House concluded after hours of deliberation to reconcile the disgruntled PML-N stalwart.
The meeting took place at a time when the political arena is rife with speculations of Nisar ending his 32-year long association with PML-N.
A much-awaited presser on Monday — in the backdrop of speculations of Nisar's differences with PML-N leadership — ended with the minister declining to address any political issues in the light of the recent Lahore explosion that left at least 15 dead and 25 injured.