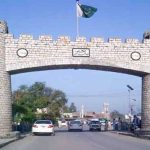 PESHAWAR: Pakistan star pacer Shaheen Shah Afridi has been made goodwill ambassador of the Khyber Pakhtunkhwa Police by becoming an honourary Deputy Superintendent of Police (DSP).
A ceremony took place on Monday to confer the honor to Afridi. It was attended by Inspector General of Police KP Moazzam Jah Ansari and other officers.
KP police hope that the move will also help establish trust between the force and the public.
Afridi, who was wearing the police uniform, said that it was an honor for him to be named the goodwill ambassador.
سپر اسٹار پاکستانی فاسٹ باولرشاہین شاہ آفریدی خیبر پختونخوا پولیس کے گڈول ایمبیسڈر (خیر سگالی سفیر ) مقرر۔

چیف سیکرٹری خیبر پختونخوا شہزاد خان بنگش اور انسپکٹر جنرل آف پولیس خیبرپختونخوا معظم جاہ انصاری سپر اسٹار کرکٹر کو ڈی ایس پی کے اعزازی رینک لگا رہے ہیں۔ pic.twitter.com/epZv6u21yc

— KP Police (@KP_Police1) July 4, 2022
"My father has been representing police and my brother is still in the police," he said, adding that cricketers support all forces of Pakistan.
Earlier this year, Shaheen Shah Afridi was crowned cricketer of the year by the world governing body for his impeccable performance in 2021.
A small investiture ceremony was also a part of the event, during which Shaheen Afridi was appointed as an honorary DSP. KP Chief Secretary Shehzad Khan Bangash and KP Inspector General of Police Moazzam Jahan Ansari conferred the honorary rank of DSP.
Afridi paid tribute to the martyrs from KP police while also praising serving officers.
The cricketer acknowledged the thankless nature of the job, as his father was a retired officer of the KP police, while his brothers were serving in the police force. He assured the KP police of not only his support but also of that of his cricket team members.