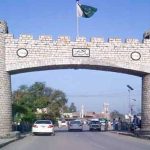 ISLASMABAD—- Pakistan Muslim League-Nawaz (PML-N) leader and former prime minister Shahid Khaqan Abbasi singled of dissolving the accountability body National Accountability Bureau (NAB).
Talking to media in Islamabad, Abbasi called for dissolving the National Accountability Bureau and holding the anti-graft body's employees accountable for allegedly looting and treating people with cruelty.
The accountability body is pursuing multiple cases of graft against his colleagues and various members of the multi-party ruling coalition that include Shahid Khaqan Abbasi, former president Asif Zardari and JUIF head Maulna Fazalur Rehman.
"NAB Chairman [Justice (retd) Javed Iqbal] should inform the people how many politicians were held during his tenure as compared to the last 23 years. What has been recovered and who has been declared guilty," he said to reporters.
Abbasi alleged that the NAB chairperson was under the complete control of former premier Imran Khan. He further accused the national graft buster's chief of being quiet about the last government's apparent corruption.
Former prime minister said that NAB couldn't prove a single reference or inquiry against PML-N leaders in the last four years. "Why didn't they investigate people who were involved in corruption worth billions [of rupees] and were sitting in the federal cabinet," Abbasi demanded.
He made this demand from Shahbaz Sharif who become as 23rd prime minister of Pakistan after ousting Imran Khan through no trust motion.