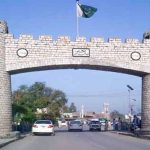 ISLAMABAD: Former prime minister Nawaz Sharif along with his daughter Maryam Nawaz and son-in-law Capt. Retd Safdar left for London to inquire about the health of Begum Kulsoom Nawaz.
The Sharif family – scheduled to return to the country on April 22 – will be visiting Kulsoom Nawaz who is undergoing cancer treatment at a hospital in London.
This was announced by Maryam Nawaz is her tweet writing, "Off to London to see Ami. If exemption not granted, will return before next hearing Insha'Allah. Pls remember her in your special prayers.
The Sharif family left for London via Doha today on Qatar Airlines flight QR-629.
Maryam Nawaz also wrote, "My mother is hospitalised again. Pls remember her in your special prayers. I know prayers can do wonders. Allah answers prayers. Thank you."
Meanwhile, all the rallies of PML-N have also been postponed.