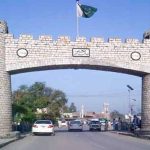 ISLAMABAD: Khawaja Haris, the lead counsel of the Sharif family, on Wednesday completed cross-examination of prosecution witness Wajid Zia, head of the Panama Joint Investigation Team (JIT) in the Avenfield case.
Former premier Nawaz Sharif, his daughter Maryam Nawaz and son-in-law retired Captain Safdar appeared before the accountability court to stand trial in the case filed against them by the National Accountability Bureau (NAB).
Judge Muhammad Bashir presided over the trial proceedings in the federal capital.
He called for a break after Haris completed cross-examination of Zia, which spanned ten days. The judge also allowed the former premier and his daughter to leave the court.
At the outset of hearing, a NAB prosecutor objected that the counsel was posing irrelevant questions to the witness and asked the judge to restrain him from doing so.
A day earlier, Zia testified that Sharif informed the JIT that he never ran the affairs of any company, nor had he been beneficiary of Nelson and Nescol or any other company, nor was he involved in any transaction whatsoever.
He conceded that the Panama JIT gathered documentary evidence related to Sharif's employment without completing the legal formality of preparing recovery and possession memos.
The JIT quoted the former premier as saying that late Mian Muhammad Sharif would bear the expenses of his sons – Hussain and Hassan Nawaz and that it was his decision to provide the family's holdings and pocket money to members of the family.
Haris asked Zia if he shared the JIT report with Quist Services, a law firm whose services the JIT had hired in connection with a probe into the Sharif family's wealth, to which he replied only witnesses statement were shared with it.
NAB prosecutor Sardar Muzaffar objected that the defence counsel has been cross-examining the witness about the admitted facts of the case for three days.
The accused person had already accepted documents about Capital FZE chairmanship, and an Iqama, whereas he didn't admit to having received a salary from the company, he said.
The prosecutor said the counsel couldn't pose questions about such admitted facts, and accused him of trying to prolong the trial proceedings.
Upon this, defence counsel Haris asked why did the NAB incorporated the documents about Capital FZE in the case. He said he will not ask questions about the documents, if these are not made part of the case.