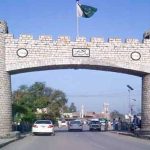 BAHAWALNAGAR: A man was killed and three others including Pakistan Peoples Party (PPP) leader Shaukat Basra were injured in a gun attack on a sit-in staged by Pakistan People's Party (PPP) against local police on Monday.
The sources said wounded Shaukat Basra is out of danger.
The deceased is Shaukat Basra's secretary Imtiaz, according to PPP secretary information Chaudhry Manzoor.
Chaudhry Manzoor condemned the attack on Shaukat Basra saying the PML-N 'Gullu Butts' assaulted the peaceful protest sit-in.
He demanded the people responsible for the attack be arrested immediately.
PPP leader Qamar Zaman Kaira condemned the attack. PPP Chairman Bilawal Bhutto Zardari also condemned the attack and held the attack as brazen act of terrorism.
Meantime, the workers of the PPP are gathering at the attack site.