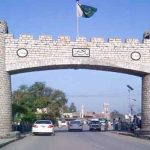 ISLAMABAD (Khyber News) – The incumbent government of Pakistan Tehreek-e-Insaf (PTI) on Friday has carried out major reshuffling in the Federal Cabinet.
According to details, Shaukat Tareen has been given the responsibility of finance ministry while the ministry of energy has been taken from Omar Ayub and handed over to Hammad Azhar.
Khusro Bakhtiar has become new minister for industry and production while Shibli Faraz will serve as the minister for science and technology.
Moreover, Fawad Chaudhry has been given the post of information minister.