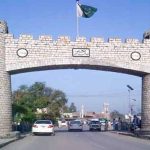 PESHAWAR: Khyber Pakhtunkhwa Minister for Information Shaukat Yousafzai on Saturday once again urged people to not eat fine flour.
Shaukat Yousafzai said doctors warn that fine flour can cause cancer whereas local whole-wheat flour saves from stomach diseases.
The minister also questioned that why the nanbais prefer fine flour of Punjab instead of Khyber Pakhtunkhwa. KP is giving subsidy on fine flour while Punjab's fine flour is expensive, he said.