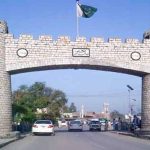 KARACHI: The Central Reut-e-Hilal Committee on Thursday announced that Eid-ul-Fitr will be celebrated on Saturday June 16 as no testimony was received from any part of the country of Shawwal moon sighting.
The Ruet-e-Hilal Committee met in Karachi on Thursday for Shawwal moon sighting. The meeting was chaired by Chairman Ruet-i-Hilal Committee, Mufti Muneeb-ur-Rehman.
No testimonies of moon sighting were received in Muzaffarabad, Jhelum, Lahore, Mangla, Gujranwala and Islamabad.
It is to be mentioned here that the United Arab Emirates (UAE) has announced the sighting of moon marking the beginning of Shawwal with Eidul Fitr to be celebrated tomorrow (Friday).
The crescent of the Shawwal moon has been sighted in Jebel Hafeet, Al Ain, the International Astronomy Center announced on Thursday.