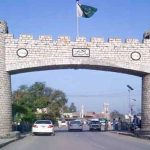 HYDERABAD: A single-judge bench of the Sindh High Court on Friday allowed a teen-age, Gulnaz Shah (her former name is Ravita Meghwar) to live with her husband as the Sindh police recovered three kidnapped Hindu girls in Mirpurkhas.
According to Advocate Ali Palh, the counsel for the intervener in the case, Justice Panhwar heard Gulnaz Shah, who had converted to Islam from Hinduism and married Nawaz Ali Shah in Samaro this month, in his chamber before passing the judgment.
Justice Panhwar had heard Gulnaz, her father Satram Meghwar's counsels and Palh in an open court before adjourning the matter briefly.
Gulnaz Shah had a day earlier been sent to the Darul Aman shelter by the court after Palh insisted that she be kept in some state institution before the recording of her statement.
Palh had contended that though the Child Marriage Restraint Act is silent over nullity/validity of marriage or otherwise in case an underage girl is married by her parents, a previous case heard by a division bench of the SHC headed by Justice Sajjad Ali Shah had sent a minor, Anjali, to a shelter on the grounds that she was underage.
Palh said that the bench had held that the law would be frustrated if the minor was allowed to go with her husband. He had also stated that the primary school certificate submitted before the court proves that she was less than 18 years of age and thus could not be married .
Zahoor A Baloch, the lawyer representing the couple, argued that the girl had attained the age of puberty and as per Islamic law, a girl who is either 16 years of age or has reached puberty, is an adult.
Bhagwandas Bheel, the counsel for Meghwar, argued that the girl was under the influence of her husband.
Gulnaz, however, had told the judge on Thursday that she had embraced Islam of her own free will and recited the kalma of her own accord.
Meanwhile, police recovered three sisters belonging to the Hindu community, who were allegedly kidnapped in Tando Jan Mohammad of Mirpurkhas two nights ago.
Sixteen-year-old Vijanti Mala, 15-year old Shelta and their 7-year-old sister, Priya, were allegedly abducted by influential people belonging to the same area, police said.
Gulji Meghwar, the girls' father, had registered a report of their alleged abduction with SHO Tando Jan Mohammad, Ayaz Bhatti.