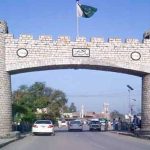 KARACHI: The Sindh High Court (SHC) on Monday has granted bail to the suspended SSP Rao Anwar in the Naqeebullah Mehsud murder case.
The court had reserved issuing its judgment on July 5. Anwar has been asked to submit surety bonds worth Rs1 million.
Not a single witness testified against me, said Anwar. He was talking to media outside the court.
During the hearing, Anwar's lawyer said that he was neither present at the spot when Naqeebullah was murdered in a fake encounter nor had he anything to do directly with the "encounter".
On March 21, Anwar surrendered before the Supreme Court which was hearing the suo motu case of Naqeeb's murder. It ordered the police to form an inquiry or JIT led by Additional Inspector General of Sindh Police Aftab Pathan to investigate the SSP. The others members of the JIT are AIG Walliullah Dal, DIG of Karachi South Azad Ahmed Khan, DIG Karachi East Zulfikar Larik and SSP Dr Rizwan.
However, the sacked police officer, who was widely known as an "encounter specialist", said he had no confidence in the inquiry team. Anwar claimed that it deprived him of his right to defence.