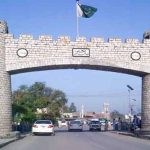 KARACHI: Sindh High Court on Monday rejected bail application of former Information Minister Sharjeel Inam Memon in Rs5.7 billion corruption case.
As a division bench of the high court rejected bail application of the minister on Monday morning, the minister is still in the courtroom and is not coming out to avoid arrest by a NAB team waiting for him outside.
The Minister filed an application seeking the court to restrain NAB from arresting him as he is planning to move to Supreme Court challenging the SHC decision to reject his bail plea. The court returned the petition without hearing it.
As the minister is present in the courtroom, a numbers of Sindh Ministers rushed to SHC and are present there along with the former minister since morning. Sources said that Asif Zardari contacted the minister and inquired about his case.
They said that Zardari telephoned to provincial minister Imdad Pitafi, who is in the court, and talked to Memon over his phone.
Meanwhile, Sindh Chief Minister Murad Ali Shah also contacted Sharjeel Memon discussed with him about the case and future line of action.
The NAB had filed a reference against former provincial information minister Sharjeel Inam Memon and others for committing corruption in the award of advertisements of provincial government's awareness campaigns in electronic media involving over Rs5.7 billion.
The reference is about alleged corrupt practices in the advertisement awareness campaigns on TV and FM channels between July 2013 and June 2015. NAB said it was found that the accused acted in connivance with each other resulting in a loss of Rs3,279,177,029 to the national exchequer.
It was revealed in the investigation that an amount of Rs5,766,479,766 was paid to seven advertisement companies in violation of the Sindh Public Procurement Rules 2010.
The reference alleged that the former information minister illegally approved releasing of official advertisements to electronic media for awareness campaigns through the so-called pre-qualified advertising agencies without due competition.It was alleged that Sharjeel Memon issued contracts to favourite advertising agencies at exorbitant rates even without confirming the market rates.
Besides, the former information minister directly approved the media plan submitted by the advertising agencies.
Besides the former information minister, former provincial information secretary Zulfiqar Ali Shalwani, deputy directors of information department Anita Baloch, Mansoor Ahmed Rajput and Mohammed Yousuf Kaboro, Syed Masood Hashmi of the Orient Communication (PVT) Ltd, Gulzar Ali and Salman Mansoor of Adarts and Inam Aktar of Evernew Concepts were among the 17 accused cited in the reference.
It was alleged that advertising agencies suppressed the invoices issued by the media and showed much higher amounts, while as per settled practice advertising agencies were entitled to get only 15 per cent agency commission against the total bill.