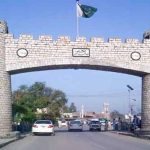 KARACHI: Sindh High Court on Tuesday ordered formation of a Joint Investigation Team (JIT) to probe May 12 riots in Karachi.
The SHC bench hearing the case also ordered formation of a judicial tribunal for investigation into the hours-long riots which claimed scores of lives.
On May 12, 2007, around 50 people were killed and over 100 wounded in attacks on rallies by different political parties and the legal fraternity who had attempted to receive the then deposed chief justice Iftikhar Muhammad Chaudhry at the Karachi airport ahead of a lawyers' gathering.
Chaudhry was forced to fly back to Islamabad after nine hours of being restricted to the airport.
The two-member bench today sought a report from the Sindh government over payment of compensation to the families of dead and wounded victims of the deadly riots.
On May 12, 2007 a major portion of Karachi's main artery, Shahra-e-Faisal, turned into a battlefield when rival political groups clashed with each other soon after the arrival of the then chief justice of Pakistan.