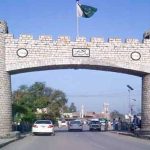 KARACHI: Sindh High Court (SHC) on Tuesday ordered inclusion of the column about 'handicapped' people in the Census data collection form.
The bench comprises of Justice Muneeb Akhtar while hearing a petition, expressed surprise over absence of the column about handicapped people in the census form and ordered inclusion of the column in the form.
Additional Attorney General, who was present during the hearing said that he will write a letter today to the federal government and other concerned departments about adding the column in the form.
The bench remarked that the Census about to start and the schedule has already been released, the government should have take care of the matter itself. It is not lack of attention it will be deemed an effort to curb the rights of the handicapped people of the society.
Justice Muneeb Akhtar observed that the column was present in the previous census in 1998.
A petition filed in SHC said that Sindh have a population of about five million handicapped people, which reaches to over 20 million in the country.
The petition seeks the court to order addition of the handicapped people in census form and stop the practice till addition of the relevant column.